Plan that consolidates the SJD Barcelona Children's Hospital as a center of high specialization in Paediatrics and maternal health at an international level.
Since 2004, SJD Barcelona Children's Hospital has been in the process of change and this has allowed it to go from being a local general hospital to a highly specialised centre for paediatrics and maternal health on an international level.
This process is being implemented by means of several strategic plans entitled Paidhos (a word formed from the ancient Greek for "child" (paîs, paidós), plus an "h" for "hospitality").
Paidhos 2020 strategic plan
We are now on the Paidhos 2020 strategic plan in order to strengthen our position as a highly specialised and internationally oriented mothers' and children's hospital. This is the third Paidhos plan, initiated by SJD Barcelona Children's Hospital, and the plan allows the Hospital to obtain the medical and care position envisaged in 2004.
Our goal is to be a reference centre able to treat any kind of childhood disease, however complex, and patients from all socio-economic backgrounds.
Paidhos 2020 has several policy areas that affect aspects such as the continuous pursuit of clinical excellence, constant improvement of the patient experience and of our infrastructure, and the sustainability of our model.
We must also not forget our commitment to society. We aim at strengthening our ties with the public, institutions, and of course, with those who help us carry out our hospital project: our donors and friends.
And lastly, we continue to move forward to improve the health of children, young people and mothers by promoting research and innovation, training for health professionals and the dissemination of information and resources for patients and families.
Presentation of the Paidhos 2020 strategic program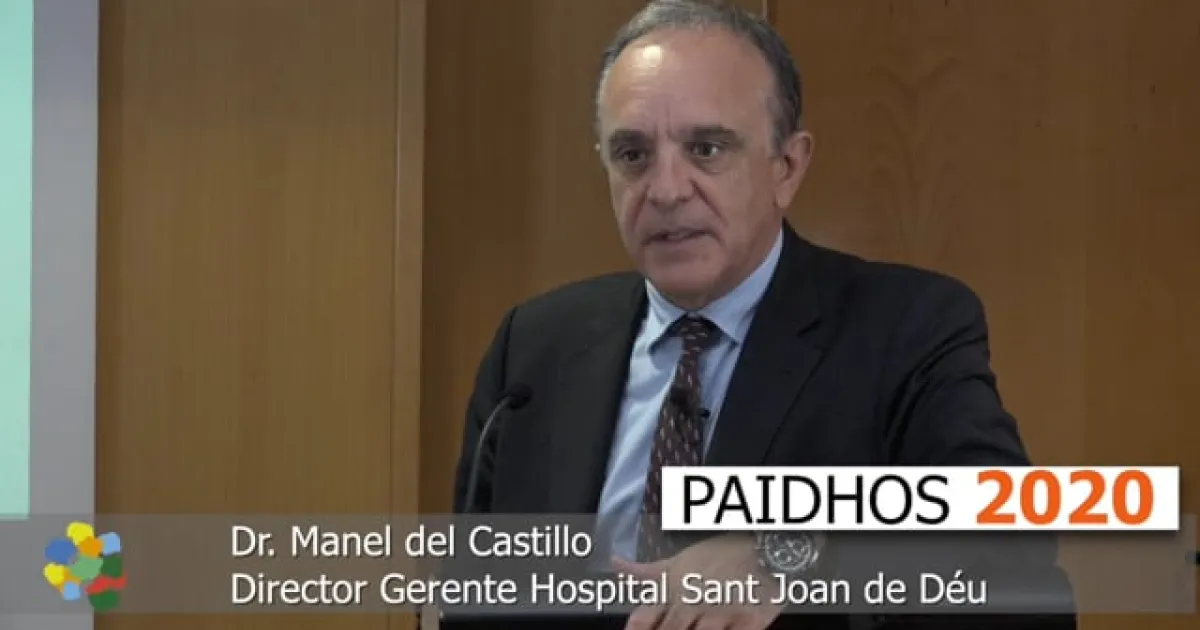 https://vimeo.com/193871060
Renovations Plan (2005–2020)
The renovation of SJD Barcelona Children's Hospital is a must. In recent years we have increased our number of discharges by more than 20%, our births by 30%, our outpatient visits by 15%, our same-day surgeries by 100% and our day-hospital care by more than 200%.
Therefore, the renovations will meet our new care needs. The Hospital has transitioned from providing strictly maternal and paediatric care to treating adolescents and more diverse and complex complaints.
Our goal is to offer our patients and their families greater comfort and better service, and, to do this, we must expand to have adequate space to meet care needs and maintain our care model.
In 2005, SJD Barcelona Children's Hospital began remodelling and expanding its infrastructure. The Generalitat de Catalunya (local Government of Catalonia) awarded a grant of 36 million euros to cover part of the cost of the project. 
Former strategic plans
The first strategic plan spans from 2004 to 2008 and reflects the need to position the Hospital as a local paediatrics centre as a paediatric general hospital, surpassing its role as a paediatric general hospital. In this way, it aimed for expertise and complexity in healthcare, focused on mothers, children and adolescents, and construction on the infrastructure needed to achieve this got under way.
Between 2008 and 2014, the second strategic plan is carried out, which consolidates the specialisation in care by converting the Hospital into a national centre of reference, governed by the combination of Science and Humanism. A generational change is taking place and the Hospital has positioned itself to add healthcare personnel who are experts in their specialty.
Furthermore, care has been taken beyond the centre itself through the use of new technologies, and efforts in research, teaching and medical innovation have been intensified.
The economic situation caused by the widespread crisis, in addition to the drop in the birth rate, led to the strategic plan being revised in 2010.
New opportunities, which up to that point had not been not contemplated, are being sought. This involves broadening the hospital's horizons in order to turn it into an internationally oriented centre that treats patients outside our borders. In addition, new sources of funding are needed to ensure the hospital's sustainability as a non-profit organisation.
"These are times of great change, which includes periods of uncertainty. Thanks to our professionals' commitment to the hospital and to our patients, we are ready to face and surmount the challenges that come our way, towards a more hopeful future."
Manel del Castillo
Chief Executive Officer at SJD Barcelona Children's Hospital