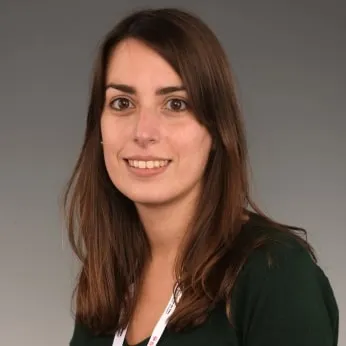 Expert in
Extracranial solid tumours
You will find me at
Languages
English, Spanish, French, German and Catalan
I am currently working on the diagnosis and treatment of patients with extracranial solid tumors, mainly neuroblastoma and sarcomas. I have a special interest in adolescent patients and young adults, as well as the development of new drugs.
Training
Senior Associate Resident in the Unit for the Development of New Drugs and Early Clinical Trials. Institut Gustave Roussy, Paris, 2017 - 2018.
Fellowship in Paediatric Oncology, SJD Barcelona Children's Hospital, 2013 - 2017.
Rotation in the Haematology, Oncology and Stem Cell Transplantation Department, Hospital Universitario Niño Jesús, Madrid, 2012.
Resident Physician in Paediatrics and Specific Areas, Hospital Universitario Nuestra Señora de la Candelaria, Tenerife, 2010 - 2013.
Scientific activity
Full member of the Sociedad Española de Hematología y Oncología (Spanish Society of Paediatric Haematology and Oncology), since 2017.
Member of the Sociedad Española de Pediatría (Spanish Society of Paediatrics), since 2011.
How to request a treatment in SJD Barcelona Children's Hospital
Our hospital is dedicated to comprehensive care for women, children and adolescents.