Álvaro
Madrid Aris
Paediatric nephrologist
Head of the Nephrology Department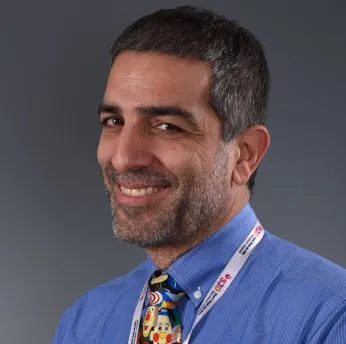 Expert in
Glomerulopathies. Kidney transplant and dialysis (haemodialysis and peritoneal dialysis). Therapeutic apheresis procedure
You will find me at
Languages
Spanish, Catalan and English
I have spent a large part of my professional career at Vall d'Hebron Hospital, where I have worked for the last 18 years (2000 - 2017). I started the Paediatric Nephrology Clinic at the Hospital del Mar in Barcelona (2002 - 2013), as well as therapeutic apheresis techniques in children in Catalonia. I am a leading specialist in childhood glomerular diseases and peritoneal dialysis. In my work, seeing children smile is my greatest satisfaction.
International experience
The Hesperis Course, Organ Transplant Training Course organised by ESOT (European Society for Organ Transplantation). Italy, 2006.
Jackson Memorial Hospital, fellowship in the Paediatric Nephrology Department, Miami (USA).
Paediatric residence, Toronto Hospital for Sick Children. Pontifical Catholic University of Chile, 1990 - 1994.
Scientific activity
mRNA and microRNA Ultrasequencing in exomes of patients with HHNF.
Genomic study of early onset nephropathies.
Study evaluating the efficacy of paricalcitol in the reduction of PTH in children and adolescents.
Study of cinacalcet in the treatment of secondary hyperparathyroidism in children with terminal CKD.
Determination of biomarkers of BK virus nephropathy versus acute kidney transplant rejection.
Apolipoproteins AI and A-II as biomarkers and therapeutic targets of Segmental Focal Glomerulosclerosis.
Teaching
Lecturer in the Paediatrics Chair at Pompeu Fabra University.
Lecturer in University Master's Degree on Translational Medical Research, Vall d'Hebron Institute of Research and the Autonomous University of Barcelona.
Teacher on the Peritoneal Dialysis training course, Peritoneal Dialysis group of Catalonia and the Balearic islands.
Tutor of paediatric residents at Vall d'Hebron Hospital, 2004 - 2017.
Teacher on the advanced course in dialysis organised by the Spanish Dialysis Foundation.
How to request a treatment in SJD Barcelona Children's Hospital
Our hospital is dedicated to comprehensive care for women, children and adolescents.