Carles
Cisneros Camps
Senior Health Technician
Technical and administrative coordinator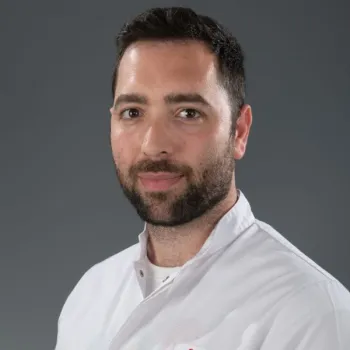 The Hospital is a symbiotic living organism, with multiple specialties and professional profiles; all are necessary to obtain the best outcome for the patient.
Expert in
Planning, organisation, management and training of technical staff
You will find me at
Languages
Spanish, catalan
In 2013, I did my laboratory internship at the Hospital de Sant Joan de Déu Barcelona and when I finished I obtained my first contracts in the area of molecular microbiology. During my first years, I combined my clinical work with the infectious diseases and microbiome research group, participating in numerous research projects.
In 2019, I joined the Spanish Society of Senior Health Technicians (SETSS) and I am currently the secretary of its board of directors. Since 2022, I have been working as technical coordinator in the Hospital Laboratory Service.
Training
Advanced Clinical and Biomedical Laboratory Technician, Institut Bonanova, 2013.
International experience
26th ECCMID Abril 2016( Amsterdam, Netherlands) - Validation of a loop-mediated isothermal amplification assay for rapid diagnosis of invasive pneumococcal disease.
Scientific activity
Infectious Diseases and Microbiome Research Group, Institut de Recerca Sant Joan de Déu, 2013-2017.
Launes C, Armero G, Anton A, Hernandez L, Gimferrer L, Cisneros C, Jordan I, Muñoz-Almagro C. Molecular epidemiology of severe respiratory disease by human rhinoviruses and enteroviruses at a tertiary paediatric hospital in Barcelona, Spain. Clin Microbiol Infect. 2015 Aug;21(8):799.e5-7. doi: 10.1016/j.cmi.2015.04.021. Epub 2015 May 8. PMID: 25964153.
How to request a treatment in SJD Barcelona Children's Hospital
Our hospital is dedicated to comprehensive care for women, children and adolescents.