Cristina
García López
Child and Adolescent Clinical Psychologist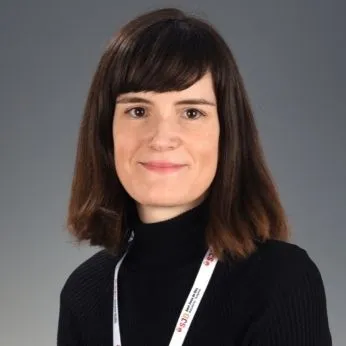 Expert in
Child and Adolescent Clinical Psychology, Autism Spectrum Disorder (ASD)
You will find me at
Languages
English, Spanish and Catalan
As a child and adolescent clinical psychologist, my healthcare work is focused in the School Learning Disorders Unit (UTAE) at SJD Barcelona Children's Hospital, where I diagnose and treat children with neurodevelopmental disorders. I also work as a researcher in collaboration with the UNED and Instituto de Salud Carlos III, conducting studies aimed at improving the quality of life of families of people with Autism Spectrum Disorder (ASD). In terms of teaching, I lecture in evolutionary psychology, diagnosis and treatment of ASD on various Bachelor's and Master's degrees.
Training
PhD in Psychology from the Universidad Nacional de Educación a Distancia (UNED). Doctoral thesis: "Parents of individuals with Autism Spectrum Disorder: Dyadic interdependence in the process of psychological adaptation".
Official Master's degree in Educational and Psychological Intervention, Universidad de Navarra.
Bachelor's degree in Psychology, Universitat de Barcelona.
International experience
Specific training in Autism Spectrum Disorders (ASDs). TEACCH® Autism Program, University of North Carolina (UNC), USA.
Fundación Miradas and Universidad Nacional de Cuyo (Mendoza, Argentina). Collaboration in training activities.
Scientific activity
Families of children with ASD: emotional psychoeducation and mutual support program (2020) (in Spanish). Editorial CEPE.
500 strategies and guidelines for families and educators of students with ASD (2022) (in Spanish). Editorial ITK Books.
Member of the IMIENS Research Group - UNED and Instituto de Salud Carlos III.
Second prize in the Ángel Rivière Award for Autism Research from the Asociación Española de Profesionales del Autismo, 2018 .
Teaching
Lecturer on the Master's degree in Autism Spectrum Disorder at UNED.
Lecturer on the Psychology degree at the Universitat Internacional de Catalunya (UIC).
How to request a treatment in SJD Barcelona Children's Hospital
Our hospital is dedicated to comprehensive care for women, children and adolescents.