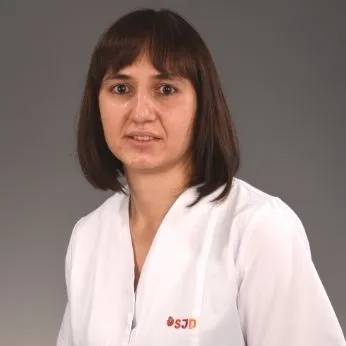 Expert in
Cytomorphology and integrated diagnosis of haematological pathology.
You will find me at
Languages
English, Spanish and Catalan
I have a degree in Medicine from the Universitat de Barcelona and an MIR (resident doctor) specialist in Haematology and Haemotherapy from the Hospital Germans Trias i Pujol. Since 2019 I have been an associate of the Haematology Laboratory of the SJD Barcelona Children's Hospital, responsible for the Cytology area.
Training
European Hematology examination of the European Haematology Association (EHA), 2018.
MIR Specialist in Haematology and Haemotherapy, Hospital Universitari Germans Trias i Pujol, 2018.
Graduate in Medicine, Universitat de Barcelona, 2013.
Scientific activity
Interactions between direct anticoagulants and chemotherapy. Sorigue M, Sarrate E, Miljkovic MD.
Dabigatran for catastrophic antiphospholipid syndrome. Sarrate E, Olive A, Morales-Indiano C, Santos-Gómez M, Orna E, Monreal M, Sorigue M.
Anticoagulation for atrial fibrillation in patients with active cancer. Sorigue M, Sarrate E, Miljkovic MD.
How to request a treatment in SJD Barcelona Children's Hospital
Our hospital is dedicated to comprehensive care for women, children and adolescents.