Emma
Ventura Orriols
Clinical Biochemistry
Extra-analytical Processes Coordinator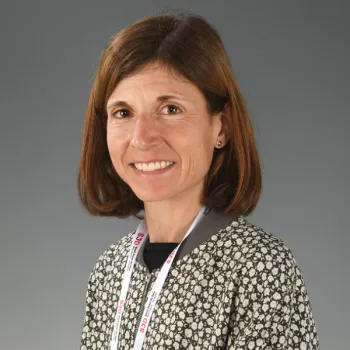 Expert in
ISO 9001 and ISO 15189 Quality Management Systems
You will find me at
Languages
English, Spanish, Catalan, French
I have a Degree in Pharmacy from the Universitat de Barcelona and am an Internal Resident Pharmacist (FIR), in Clinical Biochemistry at the Germans Trias i Pujol Hospital, Badalona. I specialize in ISO 9001 and ISO 15189 Quality Management Systems. At present, I am the Extra-analytical Processes Coordinator of the SJD Barcelona Children's Hospital laboratory.
Training
Diploma "Innovación Tecnológica y Gestión en el Laboratorio Clínico" (Technological Innovation and Clinical Laboratory Management), Roche Diagnostics and the Universidad Europea de Madrid, 2008.
Master's in Biochemistry, Molecular Biology and Biomedicine. Universitat Autònoma de Barcelona, 2007.
Internal Resident Pharmacist (FIR) in clinical analysis laboratories, Clinical Biochemistry specialist, Germans Trias i Pujol Hospital, 2006-2010.
Degree in Pharmacy, Universitat de Barcelona, 2000-2005.
International experience
Member of the Comité de Programas de Garantía Externa de la Calidad (SEQCML), Board of External Quality Assurance Programmes.
Member of the EFLM work group "Task Force on Performance Specifications in Laboratory Medicine: EFLM Task & Finish group "Performance specifications for EQAS" (TFG-PSEQA).
Scientific research
Presentation of investigation project to obtain researcher sufficiency certification, "Utilitat del Propèptid Aminoterminal del col·lagen tipus I (P1NP) com a marcador de remodelació òssia en pacients trasplantats renals", (Utility of Aminoterminal Propeptide of type I collagen (P1NP) as a marker of bone remodel in renal transplant patients) , Clinical Analysis Service of the Germans Trias i Pujol Hospital,  July 2007.
Five-month external rotation at the Hospital de la Santa Creu i Sant Pau, Lipids Unit, taking part in an investigation project: "LDL electronegativa y su papel en aterosclerosis" (Electronegative LDL and its role in aterosclerosis).
How to request a treatment in SJD Barcelona Children's Hospital
Our hospital is dedicated to comprehensive care for women, children and adolescents.