Esther
Cuatrecasas Capdevila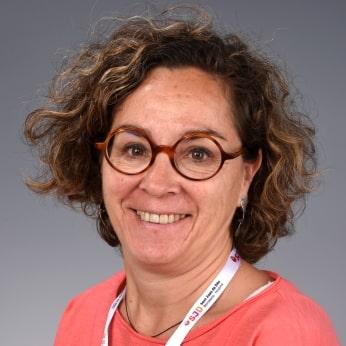 Expert in
Cytogenetics FISH
You will find me at
Languages
English, Spanish and Catalan
Since I graduated I have worked in the field of cytogenetics and FISH. I began specialising in the final year of my course, when I worked in the Department of Cell Biology, Physiology and Immunology at the Universitat Autònoma de Barcelona.
As soon as I finished my Bachelor's degree, while doing my Master's, I started the Prenatal Genetics S.L. laboratory, as a founding partner, where I worked for 22 years. In 2014, I launched the Cytogenetics Department of the AMBAR (Análisis Médicas Barcelona) laboratory. In addition to my professional experience, I have carried out research and academic activities, attending congresses and seminars held by national and international associations of which I am a member.
Since 2019, I have been Head of Cytogenetics at the SJD Barcelona Children's Hospital Laboratory.
Training
Online PhD in Medical Genetics, Universitat de València, November 2015–April 2016.
PhD in Biology, title "Mosaïcisme citogenètic de vellositats coriòniques en mostres prenatals i d'avortaments", Universitat Autònoma de Barcelona, 2012.
Master's degree in Cell Biology, title "Estudi citogenètic i morfològic de vellositats coriòniques humanes", Universitat Autònoma de Barcelona, 1991.
Bachelor's degree in Biological Sciences, Universitat Autònoma de Barcelona, 1989.
How to request a treatment in SJD Barcelona Children's Hospital
Our hospital is dedicated to comprehensive care for women, children and adolescents.