Francesc
Palau Martínez
Paediatrician and clinical geneticist
Director of the Institute for Rare Childhood Disorders (IPER) and Head of the Genetics Department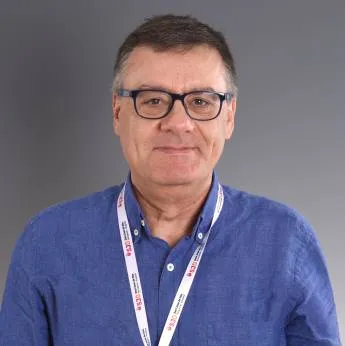 Expert in
Human and clinical genetics. Neurogenetics. Genetic counselling. Rare diseases
You will find me at
Languages
Spanish, Catalan, English and French
PhD in Medicine from the University of Valencia, and Research Professor of the Spanish National Research Council (CSIC). I am a specialist in Paediatrics, accredited in Clinical and Human Genetics, and Head of the Genetic and Molecular Medicine Department at SJD Barcelona Children's Hospital, Director of the Institute for Rare Childhood Disorders (IPER), and Director of the Paediatric Research Institute at SJD Barcelona Children's Hospital. I lead a CIBER research group into Rare Diseases (CIBERER). We transform rarities into knowledge, in order to care for and cure children with rare diseases.
I am a great lover of literature. For me, travelling is about getting to know other cultures and making them my own to some extent. And if I have to choose a meal, I would lean towards the Valencian rice - dishes of my homeland - and a particularly dish of oven-cooked rice.
Training
Accreditation in Clinical Genetics and Dysmorphology, Spanish Paediatrics Association (2000).
Accreditation in Human Genetics, Spanish Association for Human Genetics (2000).
Doctor of Medicine (PhD), University of Valencia (1989).
Paediatrics Specialist, Children's Hospital, La Fe University Hospital (Valencia, 1988).
Bachelor of Medicine and Surgery (MD), University of Valencia (1982).
Scientific activity
Director and researcher at the Sant Joan de Déu Research Institute (IRSJD).
Research Professor of the Higher Council for Scientific Research (CSIC).
Editor-in-Chief, Orphanet Journal of Rare Diseases.
Orphanet-Spain Coordinator.
Member, Scientific Advisory Committee of Telethon Italia and of the Fondation de Maladies Rares de France.
Reina Sofía Award for the Prevention of Deficiencies.
Teaching
Associate professor of Paediatrics, Faculty of Medicine, University of Barcelona, 2015 to the present.
Director, Master's Degree in Clinical Genetics and Rare Diseases, SJD Barcelona Children's Hospital - University of Barcelona.
How to request a treatment in SJD Barcelona Children's Hospital
Our hospital is dedicated to comprehensive care for women, children and adolescents.