Fredy Hermógenes
Prada Martínez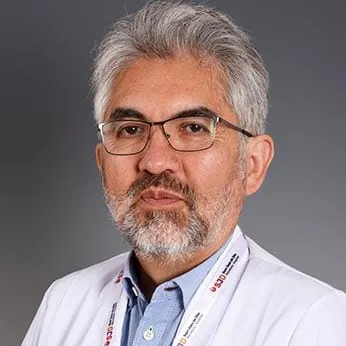 Expert in
Complex hearth catheterisation and other congenital heart defects (fetal and neonatal valvuloplasty)
You will find me at
Languages
Spanish and English
As a pediatric cardiologist, I am a specialist in the treatment of congenital heart defects (fetal and neonatal valvuloplasty and complex catheterisation techniques). I am a member of the European Pediatric Cardiology Association and a member of the Spanish Pediatric Cardiology Society. I have published numerous scientific articles in leading specialist journals.
Training
Pediatric specialist. La Paz University Hospital, Madrid, 2002. 
Cardiology specialist, Lima, Peru. 1992.
Bachelor of Medicine. National University of San Marcos, Lima, Peru, 1986.
International experience
Fellow of the Royal Brompton Hospital; National Heart Institute, London, UK, 1992 - 1993.
How to request a treatment in SJD Barcelona Children's Hospital
Our hospital is dedicated to comprehensive care for women, children and adolescents.