Héctor
Salvador Hernández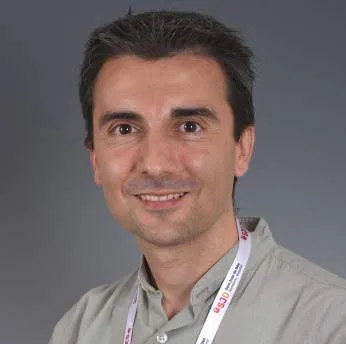 Expert in
Predisposition to cancer and neurocutaneous syndromes
You will find me at
Languages
English, Spanish and Catalan
I have been an assistant doctor at the Oncology and Haematology Department at the SJD Barcelona Children's Hospital for more than 10 years. I am in charge of the area of neurocutaneous syndromes and predisposition to cancer. We are the only recognised national paediatric centre of excellence for these types of conditions and we also belong to the European network of predisposition to cancer (GENTURIS). The principal objective of our unit is to offer a comprehensive and multidisciplinary approach of excellence to these children to enable them to access the most innovative therapies.
My area of expertise is both the detection and early diagnosis of the main syndromes that produce tumours in childhood, as well as the medical management of the tumours associated with them. Another of the main areas of work is the medical treatment of gliomas in the visual pathways and neurofibromas associated with neurofibromatosis. I believe it is very important to know how to accompany the child, the family and their environment in the disease process.
Training
Cancer development laboratory. Fundació Sant Joan de Déu [SJD Foundation] 2007-2008.
Training period in the Genetic Counselling Unit of the Institut Català d'Oncologia (Catalan Institute of Oncology - ICO), 2008.
Specialist in Paediatrics and Specific Areas. SJD Barcelona Children's Hospital (Universitat de Barcelona), 2002 - 2007.
Degree in Medicine and Surgery, Universitat Autònoma de Barcelona, 1996 - 2002.
Scientific activity
Researcher at the Cancer Development Laboratory. Institut de Recerca Sant Joan de Déu [SJD Research Institute], since 2008.
Collaboration as a researcher in the Neurofibromatosis Working Group. Institut Català d'Oncologia (Catalan Institute of Oncology) - Institut de Recerca Germans Trias i Pujol (Germans Trias i Pujol Research Institute).
Publications
Teaching
Lecturer in the Master's Degree in Biomedicine, Univesitat de Barcelona, since 2017.
How to request a treatment in SJD Barcelona Children's Hospital
Our hospital is dedicated to comprehensive care for women, children and adolescents.