Ignacio
Barber Martínez de la Torre
Radiologist
Head of Section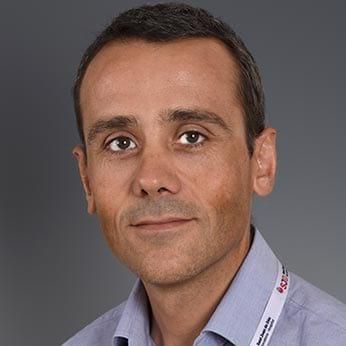 Expert in
Pediatric diagnostic imaging of the body and musculoskeletal system
You will find me at
Languages
Spanish, Catalan and English
Between 2002 and 2004, I worked as an attending radiologist at Sant Joan de Reus Hospital, the same position I held at Joan XXIII Hospital in Tarragona between 2004 and 2005. From then until 2016 I was an attending radiologist at the Vall d'Hebron Maternity and Children's Hospital. In 2016 I became Head of the Pediatric Radiology department at SJD Barcelona Children's Hospital, where I currently work. 
Training
PhD in Medicine from the Autonomous University of Barcelona, 2016.
Specialisation in Radiodiagnostics, Granollers General Hospital and Vall d'Hebron Hospital, 1998 - 2002.
Bachelor's degree in Medicine and Surgery. Rovira i Virgili University, 1990 - 1996.
International experience
Research Fellowship in Pediatric Musculoskeletal Imaging. Boston Children's Hospital (United States), from November 2011 to June 2013.
Scientific activity
Sclerotic bone lesions in tuberous sclerosis complex: A genotype-phenotype study. Boronat S, Barber I, Thiele EA. Am J Med Genet A. 2017 May 9. doi: 10.1002/ajmg.a.38260. [Epub ahead of print] PMID: 28488386
Femoral head bone viability after free vascularized fibular grafting for osteonecrosis: SPECT/CT study. Fontecha CG, Roca I, Barber I, Menendez ME, Collado D, Mascarenhas VV, Barrera-Ochoa S, Soldado F. Microsurgery. 2016 Oct; 36(7):573-577. doi: 10.1002/micr.22452. Epub 2015 Jul 27. PMID: 26214835
Infant lower extremity long bone growth rates: comparison of contemporary with early 20th century data using mixed effect models. Tsai A, Stamoulis C, Barber I, Kleinman PK. Am J Hum Biol. 2017 Jan;29(1). doi: 10.1002/ajhb.22905. Epub 2016 Aug 26. PMID: 27562523
Chronic Recurrent Multifocal Osteomyelitis and Thalidomide in Chronic Granulomatous Disease. Martín-Nalda A, Roca I, Fontecha CG, Fernández-Polo A, Barber I, Martinez-Gallo M, Soler-Palacin P. Pediatrics. 2016 Aug;138(2). pii: e20154017. doi: 10.1542/peds.2015-4017. Epub 2016 Jul 19. PMID: 27436506
Sclerotic bone lesions at abdominal magnetic resonance imaging in children with tuberous sclerosis complex. Boronat S, Barber I, Pargaonkar V, Chang J, Thiele EA. Pediatr Radiol. 2016 May; 46(5):689-94. doi: 10.1007/s00247-016-3549-3. Epub 2016 Mar 10.
Teaching
Lecturer at the European School of Radiology.
How to request a treatment in SJD Barcelona Children's Hospital
Our hospital is dedicated to comprehensive care for women, children and adolescents.