Josep
Brugada Terradellas
Pediatric cardiologist
Medical Consultant at SJD Barcelona Children's Hospital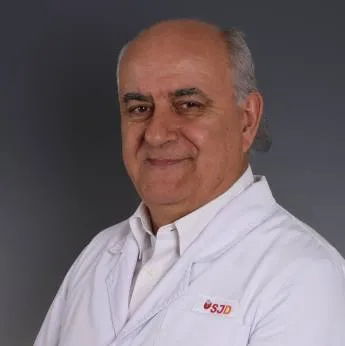 Expert in
Brugada Syndrome. Cardiology and Arrhythmias. Electrophysiology
You will find me at
Languages
Spanish, Catalan, English, French and Italian
My job has allowed me to accumulate over 20 years of experience in the treatment of arrhythmias and sudden death. I have published 350 original articles and 10 books. I have given over 450 presentations in various congresses and have organised some fifty courses. I also have extensive experience in the field of research and teaching: I have supervised several doctoral theses and have acted as a mentor to numerous international fellows in the fields of electrophysiology and arrhythmias. I have chaired the European Heart Rhythm Association and I am the head of Electrophysiology and Arrhythmias in the European Society of Cardiology's Science Committee. I actively participate in 14 professional associations, both national and international. 
Training
Master's degree in Integrated Health Services Management. ESADE Business School (2004–2005).
Cardiology Specialist, Montpellier, and Sports Medicine and Biology Specialist, Montpellier (1987–1988).
PhD in Medicine and Surgery, University of Barcelona (1986–1987).
Bachelor's Degree in Medicine and Surgery, University of Barcelona (1978–1982).
Scientific activity
In the field of scientific activity, Josep Brugada described, together with his brothers Pedro and Ramón, what is known in medical literature as Brugada Syndrome. It is a hereditary disease that increases the risk of sudden cardiac death.
Participation in over 400 original articles about cardiac arrhythmias, treatment of tachycardia with catheter ablation and the prevention of sudden deaths (texts in specialised magazines such as Nature, New England Journal of Medicine, The Lancet, Circulation, Journal of the American College of Cardiology, etc).
Cited author in over 9,500 scientific articles. 
NOTABLE PUBLICATIONS:
Teaching
Professor of  Medicine at the University of Barcelona since 2010.
Teacher in the Medicine Department at the University of Barcelona since 1997.
How to request a treatment in SJD Barcelona Children's Hospital
Our hospital is dedicated to comprehensive care for women, children and adolescents.