María Clara
Escobar Díaz
Pediatric and Fetal Cardiologist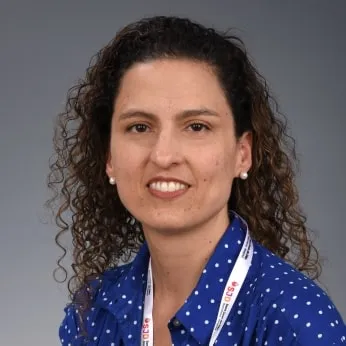 Expert in
Fetal Cardiology
You will find me at
Languages
English and Spanish
My main interest in pediatric cardiology is the diagnosis and care of congenital heart disease from fetal life. I decided to specialise in this area after a stay in Fetal Cardiology at Boston Children's Hospital, one of the most important centres for Pediatric Cardiology in the world.
My main goals are being able to monitor patients during pregnancy and find out how they progress after birth. Teamwork with the Maternal-fetal Medicine group allows us to diagnose not only heart disease, but also any associated defects patients may have, in order to begin preparing their families before the birth.
Accompanying the family from the time of diagnosis in prenatal life creates a very special bond, which makes the care of the child even better. My work as a cardiologist focusing on neonatology in the Pediatric Intensive Care Department at SJD Barcelona Children's Hospital allows me to follow these patients up after they are born and accompany the families during hospital admission and, finally, in the outpatient clinic.
My main goal is to use all my knowledge to improve the care and wellbeing of patients with heart disease and their families.
Training
Specialist in Pediatric Cardiology, Universidad Pontificia Bolivariana, Medellín, Colombia, 2014-2015.
Master's in Pediatric Cardiology, Hospital Universitari Vall d'Hebron, Barcelona, Spain, 2002-2005.
Degree in Medicine (Pediatrics), CES University, Medellín, Colombia, 1999-2002.
International experience
Pediatric cardiologist, Clínica CardioVID, Medellín, Colombia 2015-2017.
Clinical Research in Fetal Cardiology, Boston Children's Hospital, USA, 2011-2014.
Certificate in Applied Biostatistics, Harvard Catalyst, Boston, USA, 2013-2014.
Scientific activity
Co-investigator in the study "Estrés oxidativo y mielinización en pacientes con cardiopatía congénita: nuevos horizontes terapéuticos" [Oxidative stress and myelination in patients with congenital heart disease: new therapeutic horizons]
Eraso-Diaz del Castillo AM, Escobar-Diaz MC, Lince Varela R, Díaz Medina LH, Cañas Arenas EM. Catheterization Performed in the Early Postoperative Period After Congenital Heart Surgery in Children. Pediatr Cardiol. 2019 Apr;40(4):827-833
Escobar-Diaz MC, Sunderji S, Tworetzky W, Moon-Grady AJ. The Fetus with Ectopia Cordis: Experience and Expectations from Two Centers. Am J Cardiol. 2017 Jan 1;119(1):106-111
Selamet Tierney ES, McElhinney DB, Freud LR, Tworetzky W, Cuneo BF, Escobar-Diaz MC, et al. Assessment of Progressive Pathophysiology After Early Prenatal Diagnosis of the Ebstein Anomaly or Tricuspid Valve Dysplasia. Am J Cardiol. 2017 Jan 1;119(1):106-111
Friedman KG, Freud L, Escobar-Diaz M, Banka P, Emani S, Tworetzky W. Left Ventricular Remodeling and Function in Children with Biventricular Circulation After Fetal Aortic Valvuloplasty. Pediatr Cardiol. 2015 Oct;36(7):1502-9
Freud LR, Escobar-Diaz MC, Kalish BT, Komarlu R, Puchalski MD, et al. Outcomes and Predictors of Perinatal Mortality in Fetuses With Ebstein Anomaly or Tricuspid Valve Dysplasia in the Current Era: A Multicenter Study. Circulation. Aug 2015 11;132(6):481-9
How to request a treatment in SJD Barcelona Children's Hospital
Our hospital is dedicated to comprehensive care for women, children and adolescents.