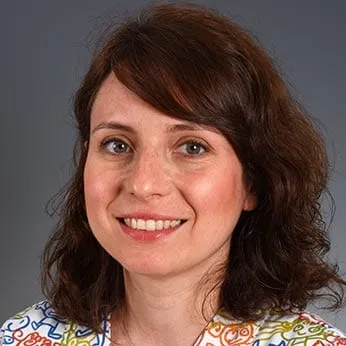 Expert in
Nursing methodology
Languages
Spanish, Catalan and English
I started working as a stand-by for the hospital in January 2001, and after working in almost all the units and departments and being trained in paediatric care, I became part of the permanent staff. Since then I have enjoyed my work as an assistant nurse, and for the past two years I have also dedicated part of my day to other non-care related tasks – specifically drafting documents related to nursing care and teaching – which has been a new challenge for me as a nurse. My biggest passion is music and I like any books written by English authors. 
Training
Diploma in Nursing, University of Barcelona (2000)
Master's degree in Nursing Methodology, University of Barcelona (2015)
Teaching
Lecturer at the University School of Nursing Bellvitge Campus, University of Barcelona (since 2014)
Tutor of paediatric nursing residents. SJD Barcelona Children's Hospital (2015)
How to request a treatment in SJD Barcelona Children's Hospital
Our hospital is dedicated to comprehensive care for women, children and adolescents.