Marta
López Viñals
Cardiovascular pediatric anesthesiologist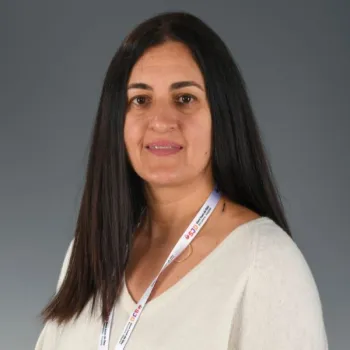 Expert in
Cardiovascular pediatric anesthesia, pediatric arrhythmia, angiovascular, arterial chemoembolisation of retinoblastomas and preoperative anesthesia appointments
You will find me at
Languages
Spanish, Catalan
Assistant Anesthesiologist at the SJD Barcelona Children's Hospital since June 2007. Currently I am the Cardiology Department Coordinator and Coordinator for areas outside of surgery (Hemodynamics, Diagnostic Imaging, Outpatient Department). I am head of the cardiac anesthetic group, who manage the staff working in this subspecialism, department activities, covering on-call shifts, and pay management. My professional role involves working in a multidisciplinary team with highly complex patients. My profile is oriented towards conflict-resolution. I hope to continue developing my career as a pediatric anesthesiologist in a hospital like the SJD Barcelona Children's Hospital, where I can continue to offer my experience and knowledge.
I am a positive, dedicated and motivated person who believes that change is the deciding factor in personal growth.
Education
Pediatric Echocardioscopy in critical patients (online), SJD Barcelona Children's Hospital. Barcelona, 2020.
Intensive practical workshop on cardiac and pulmonary ultrasound in critical pediatric patients, Gregorio Marañón General University Hospital, 2018.
7th refresher course on anesthetic use in congenital cardiopathy cases, General University Hospital Gregorio Marañón, 2018.
Coagulopathy in patients with Massive and/or Critical Hemorrhage (online), SEDAR / SEMICYUC / SETH, 2016.
Simulation instructors course, University of Barcelona (SJD Barcelona Children's Hospital), 2015.
1st year of general course for Instructors on pediatric vitals support (training course for educators, PALS line), Catalan Society of Pediatrics, 2014.
International experience
Cooperation with Healing Little Hearts on a campaign for congenital cardiopathy surgery. Licensed anesthesiology specialist. Hospital Japonés, Santa Cruz (Bolivia), November 2022. 
Training residency at the Pediatric Cardiac Anesthesiology Department. NHS Birmingham Children's Hospital, Birmingham (United Kingdom), July 2016.
Invited by the Spanish Department of Health on a programme about 12 cases of complex congenital cardiopathy. Lead anesthesiologist of the campaign. Hospital del Niño, Lima (Peru), December 2012.
Scientific activity
Oxidative stress and indicators of brain damage following pediatric heart surgery. Antioxidants. MDPI, 2022. Scientific article.
TinyBrains innovation project. Neonatal neuromonitoring. Led by: Dr Marta Camprobí and Dr Joan Sanchez de Toledo. Collaborator: neonatal overlap between anesthesiology/surgery. Start Date: 2021.
Anesthetic management in pediatric patients with congenital long qt syndrome undergoing left cardiac sympathetic denervation. European Journal of Anesthesiology. 36 - e-supplement 57, 2019. Scientific article.
Reviser of the Anesthesiology, Resuscitation and Pain Management magazine. REDAR. Bibliography review.
Abnormalities of the urethra and penis. Libro de Enfermería Médico-Quirúrgica. pp.1519-1537. DAE (Grupo Paradigma), 2001. ISBN 84-95626-07-1. Book chapter.
Teaching
SVATP Course (Advanced Vitals Support for Pediatric Trauma). Instructor on this course since 2014, teaching the airway management for pediatric trauma patients class. 1 or 2 sessions per year.
Instructor of Pediatric Simulation, since 2015.
Instructor on the Advanced Pediatric Vitals Support course since 2014.
How to request a treatment in SJD Barcelona Children's Hospital
Our hospital is dedicated to comprehensive care for women, children and adolescents.