Montserrat
Izquierdo Renau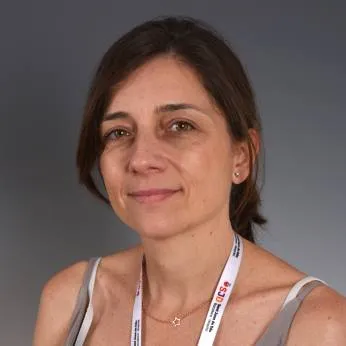 Expert in
Neonatal Resuscitation. Neonatal Nutrition
You will find me at
Languages
English, Spanish, Catalan, French
I have accumulated 12 years of experience tertiary Neonatology. My work is primarily focused on the care of the newborn in the delivery room as well as that of the premature baby, mainly in relation to nutrition. I am a member of the cardiopulmonary resuscitation group of the Sociedad Española de Neonatología (SENeo) [Spanish Society of Neonatology].
Training
Thesis: Nutritional modulation of growth and short-term outcomes in the extremely premature newborn. In progress.
Diploma in Advanced Paediatric Studies: Growth and nutritional profile in patients with phenylketonuria in the prepubertal period. Autonomous University of Barcelona, 2008.  
Scientific activity
Validation of proteomic and metabolomic biomarkers of intra-amniotic inflammation in preterm birth in cervico-vaginal samples and development of clinical prediction algorithms. 
Influence of postnatal nutritional support on the methylome of the premature infant. Principal investigator: Isabel Iglesias Platas. Co-investigator. Subsidised by a grant from the "Bombers amb causa" (a Catalan firefighters' charity).
REOX study "Resuscitation of extremely low-weight neonates by means of a comprehensive monitoring system: study of the influence of the fraction of inspired oxygen". EudraCT: 2088-005047  
Teaching
Course on Neonatal Cardiopulmonary Resuscitation, since 2008.
Instructor course for Neonatal Cardiopulmonary Resuscitation, since 2010.
Master's Degree in Neonatology from the University of Barcelona, collaborating lecturer since 2012.  
How to request a treatment in SJD Barcelona Children's Hospital
Our hospital is dedicated to comprehensive care for women, children and adolescents.