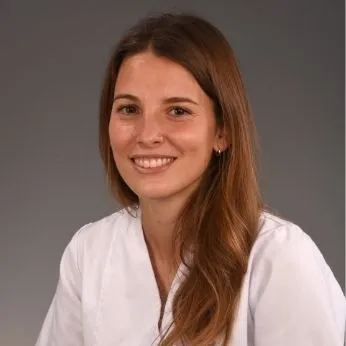 Expert in
Genetic and molecular characterisation of acute leukaemias and other blood diseases
You will find me at
Languages
English, Spanish and Catalan
After training academically in the field of biomedicine while studying an undergraduate degree in Human Biology and the Master's in Clinical Analysis at the Universitat Pompeu Fabra, I did my doctoral work in the Haematology Laboratory of the SJD Barcelona Children's Hospital, focused on identifying possible biomarkers and/or therapeutic targets in high-risk leukaemias. In 2018 I obtained a PhD in Translational Medicine and Research from the Universitat de Barcelona. Since 2020 I have been an associate of the Haematology Laboratory of the SJD Barcelona Children's Hospital, mainly focussing on the field of NGS.
Training
Doctor in Medicine and Translational Research, Universitat de Barcelona, 2018.
Master in Laboratory of Clinical Analysis, Universitat Pompeu Fabra, 2013.
Degree in Human Biology, Universitat Pompeu Fabra, 2012.
International experience
Internship at the Childhood Leukaemia Investigation Prague (CLIP) laboratory, Charles University and University Hospital Motol (Czech Republic), 2019.
Scientific activity
Post-doctoral researcher in the field of leukaemias and non-malignant blood disorders. Institut de Recerca Sant Joan de Déu (IRSJD), since 2013.
Member of the European Haematology Association (EHA young member).
Teaching
Collaborating professor at the Universitat Oberta Catalunya (UOC) in the Master of Bioinformatics and Biostatistics UOC-UB, since 2020.
How to request a treatment in SJD Barcelona Children's Hospital
Our hospital is dedicated to comprehensive care for women, children and adolescents.