Paula
Navarro Royo
Child and Adolescent Psychologist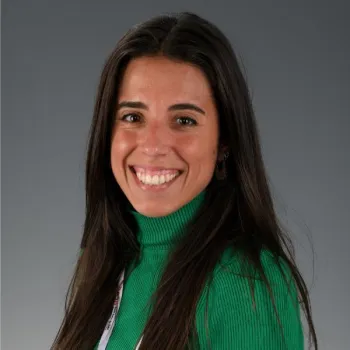 Expert in
Autism Spectrum Disorder (ASD)
You will find me at
Languages
English, Catalan, Spanish
My professional work focuses on working with children, together with their families, with different neurodevelopmental disorders, especially those diagnosed with Autism Spectrum Disorder (ASD). The intervention I carry out at the School Learning Disorders Unit (UTAE) of the SJD Barcelona Children's Hospital consists of providing these children with an optimal space that allows them to develop their full potential and improve their ability in those areas in which they are most affected, while I try to teach their caregivers to live each day as multiple and valuable learning opportunities. I also run social skills sessions with groups of children of different ages, providing the support and guidance they need to be able to cope with the challenges of social relationships and managing emotions.
I am passionate about working with and for children. Doing my bit to make these children's day-to-day lives an achievable challenge, enjoying every little learning, makes me grow every day as a professional and as a person.
Training
Master's Degree in Neuropsychology, Universitat Oberta de Catalunya, 2019-2023.
ADOS-2 (Autism Diagnostic Observational Schedule) training and certification course, 2019.
Master's Degree in Clinical Child and Adolescent Psychopathology. Universitat Autònoma de Barcelona, 2016-2018.
Graduate in Psychology with mention in Clinical and Health Psychology, Universitat de Barcelona, 2012-2016.
How to request a treatment in SJD Barcelona Children's Hospital
Our hospital is dedicated to comprehensive care for women, children and adolescents.