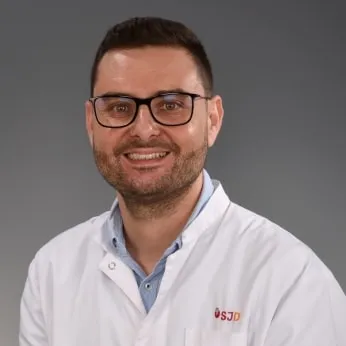 Expert in
Familial heart disease. Echocardiographic analysis. Pediatric arrhythmias.
You will find me at
Languages
Spanish, Catalan
Pediatric Cardiology is a specialty that piqued my interest when I started training in Pediatrics. In our day-to-day, congenital heart disease, pediatric cardiomyopathy and arrhythmia are a both diagnostic and therapeutic challenge. It is precisely this complexity that compels us to continue learning new diagnostic techniques and to invest time in research, which is key in advancing as professionals and improving the quality of care for our patients.
Training
European Accreditation in Congenital Heart Disease Echocardiography. EACVI-ESC, 2017.
Postgraduate degree in Cardiovascular Genetics. University of Valencia, 2016.
Diploma in Design and Analysis of Clinical Research. University of Barcelona, 2016.
Specialist in Pediatric Cardiology. SJD Barcelona Children's Hospital, University of Barcelona, 2011-2013.
Specialist in Pediatrics and its specific areas. Joan XXIII University Hospital Tarragona, 2007-2011.
International experience
Echocardiography: Strain through Speckle Tracking. Pennsylvania (United States), 2016.
Scientific activity
Co-investigator in the field of Pediatric Cardiology and Arrhythmias, since 2014.
Co-investigator for various specialties at the Research Unit of SJD Barcelona Children's Hospital, since 2013.
Principal Investigator for clinical trial CL2-16257-090, SJD Barcelona Children's Hospital, 2013 - 2014.
Teaching
Director of the course in basic and advanced Pediatric Echocardiography. SJD Barcelona Children's Hospital, since 2014.
How to request a treatment in SJD Barcelona Children's Hospital
Our hospital is dedicated to comprehensive care for women, children and adolescents.