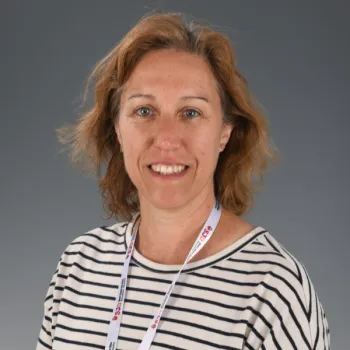 I have been at SJD Barcelona Children's Hospital since summer 2003. I trained at Hospital Clínic in Barcelona. During my time at this hospital, I have worked in different areas of my specialty, although I have essentially focused on neuroanaesthesia for more than ten years. I work with the hospital's Refractory Epilepsy Unit and as a lecturer on the Master's in Neuroanaesthesia at the University of Barcelona.
Training
Master's degree in Research Methodology in Health Sciences. Autonomous University of Barcelona (60 ECTS), 2010-2012.
Resident Medical Intern in Anaesthesiology, Resuscitation and Pain Management. Hospital Clínic, Barcelona, 1999-2003.
Bachelor's degree in Medicine and Surgery. Faculty of Medicine. University of Zaragoza, 1992-1998.
Scientific activity
Regular attendance, with papers and communications, at national and international scientific meetings and conferences on anaesthesiology, paediatric anaesthesiology and neuroanaesthesia.
Publications in various fields in my speciality.
Teaching
Lecturer on the University Master's degree in Advanced Skills in Neuroanaesthesia at the University of Barcelona.
How to request a treatment in SJD Barcelona Children's Hospital
Our hospital is dedicated to comprehensive care for women, children and adolescents.