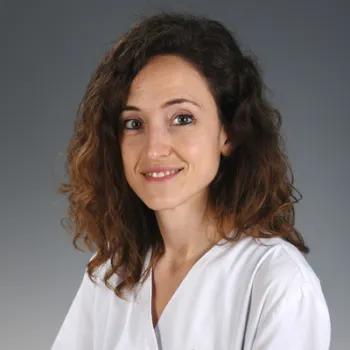 Expert in
Infectious disease of pediatric patients with cancer or undergoing TPH, PROA (antimicrobial stewardship)
You will find me at
Languages
English, Spanish, Catalan
I am a pediatrician specializing in infectious diseases. My interest focuses on the infectious pathology of cancer and immunosuppressed patients, as well as on the optimization of the use of anti-infectives to reduce the development of antimicrobial resistance in patients and in the environment.
Training
Doctor of Medicine, Universitat de Barcelona, 2021.
Specialist in Pediatrics and its Specific Areas, SJD Barcelona Children's Hospital, 2017.
Degree in Medicine, Universitat Autònoma de Barcelona, 2012. 
Scientific activity
Researcher in the Area of Infectious Diseases and Systemic Inflammatory Response, since 2019.
Simo Nebot, Silvia & López-Ramos, María & Velasco-Arnaiz, Eneritz & Jordan, Iolanda & Fortuny, Clàudia & Noguera, Antoni. (2021). Impact and quality of antimicrobial use in a referral pediatric intensive care unit. Enfermedades Infecciosas y Microbiología Clínica. 10.1016/j.eimc.2021.05.001. 
Castany-Feixas, Marta & Simo Nebot, Silvia & Garcia-Garcia, Selene & Sevilla, Mariona & Launes, Cristian & Kalkgruber, Marlene & Gene, Amadeu & Muñoz-Almagro, Carmen & Brotons, Pedro. (2021). Rapid molecular syndromic testing for aetiological diagnosis of gastrointestinal infections and targeted antimicrobial prescription: experience from a reference paediatric hospital in Spain. European Journal of Clinical Microbiology & Infectious Diseases. 40. 10.1007/s10096-021-04266-7. 
How to request a treatment in SJD Barcelona Children's Hospital
Our hospital is dedicated to comprehensive care for women, children and adolescents.