Stefano
Congiu
Pediatric cardiovascular surgeon
Head of Cardiac Surgery Service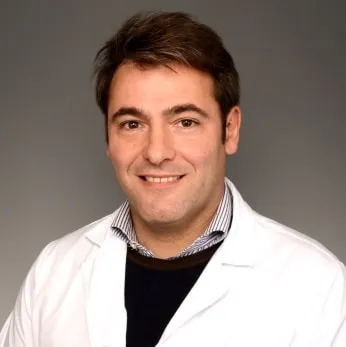 Expert in
Neonatal Cardiac Surgery
You will find me at
Languages
English, Spanish, Catalan and Italian
Some of the challenges I face in my career include reducing mortality rates and improving morbidity rates in sick patients with complex congenital heart diseases. I also work towards reducing the risk of post-operative infections and implementing new technologies in patients with cardiac malformations. The implementation of  cardiac care programmes and humanitarian care programmes and postings in developing countries are also essential parts of my work.
Training
Congenital Cardiac Surgery Consultant at the Leeds General Infirmary since 2012.
Specialist Registrar in Congenital Cardiac Surgery at Leeds General Infirmary Hospital from 2009 until 2011.
Pediatric Cardiac Surgery Assistant at the  SJD Barcelona Children's Hospital, 2007–2008.
Fellowship in Pediatric Cardiac Surgery at the SJD Barcelona Children's Hospital, 2005–2007.
Pediatric Cardiac Surgery A+E doctor at the Hospital Clínic de Barcelona, 2004–2008.
International experience
Volunteer work in India with Healing Little Hearts (Amravati 2015, Pune 2016, Goa 2016).
Children's Hospital of Pittsburgh (UPMC), 2008.  
Scientific activity
Chapters in the following books:
Appunti in Cardiochirurgia (in Italian), 2016.
Handbook of emergencies in adult cardiac surgery, 2015.
Other:
"Master and Back, Use of the Cryoangioplasty in the treatment for Aortic Coarctation". Principal Investigator. Availability: €30,000, 2006–2008
European Society of Cardiology. Acute Coronary Syndrome Study Patient: 1000. Data Collector officer, 2000–2004.
European Society of Cardiology. Cardiac failure Study Patient: 1000. Data Collector officer, 1999–2002.
Teaching
Honorary Senior Lecturer at the University of Leeds since 2012.
How to request a treatment in SJD Barcelona Children's Hospital
Our hospital is dedicated to comprehensive care for women, children and adolescents.