Vicente
Santa-María López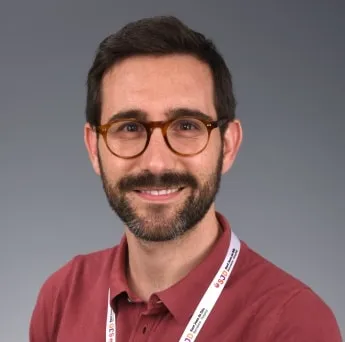 Expert in
Pediatric tumors, histiocytiosis.
You will find me at
Languages
English, Spanish and Catalan
I work in the Pediatric Neuro-oncology Unit, in particular with patients with embryonal tumours of the central nervous system. I also belong to a team treating patients with histiocytosis, especially those with neurodegenerative impairment.
Training
Fellowship in Pediatric Neuro-oncology, SJD Barcelona Children's Hospital, 2017-2018.
Fellowship in Pediatric Oncology, SJD Barcelona Children's Hospital, 2014-2017.
Observership in Pediatric Oncology, Dana-Farber Cancer Institute/Boston Children's Hospital, United States, 2013.
Official Master in Biomedical Research, Universidad de Sevilla and Instituto de Biomedicina de Sevilla (IBIS), a biomedical research institute in Seville, 2011-2013.
Resident Physician in Pediatrics and Pediatric Sub-specialisations, Hospital Universitario Virgen del Rocío, Seville, 2009-2013.
Scientific activity
Member of SEHOP, a working group on histiocytosis and haemophagocytosis.
How to request a treatment in SJD Barcelona Children's Hospital
Our hospital is dedicated to comprehensive care for women, children and adolescents.