How does COVID-19 affect pregnant women and newborns?
Pregnant women with COVID-19 are a vulnerable group that needs specific support
Despite the fact that most pregnant women with COVID-19 develop the disease mildly, there are cases of serious presentations. In addition, pregnant women are very vulnerable to the 'collateral damage' of COVID-19, that is, to long-term social, economic and welfare consequences.
We are joining forces at the local and international level to carry out the necessary studies and thereby answer the key questions.
How does COVID-19 present in pregnant women?
How does COVID-19 present in pregnant women and what is its impact on the fetus and its health?
There is an urgent need for solid scientific data on the presentation of COVID-19 in pregnancy and on whether it has any impact on the mother and the fetus.
The lack of reliable scientific data generates uncertainty and stress in the women who are in this stage of life. It Is also crucial to study this stress, and other factors such as socio-economic and environmental aspects, as they relate to the susceptibility to contract COVID-19 and its severity during pregnancy.
Can we learn from other respiratory infections?
In general, respiratory infections have shown an important impact on pregnant women and their fetuses, such as the influenza virus H1N1 or Zika virus. In the case of other coronaviruses, some pregnant women have shown to be more susceptible than the general population.
What studies are we carrying out and what do they consist of?
Registries of COVID-19 cases in pregnancy already exist. These are very useful tools but only include the most symptomatic and serious cases.
It is essential to carry out studies that comprise all cases in pregnant women, including the asymptomatic and mild ones, which represent the majority of cases. Therefore, we have established a large study with women in the first and third trimesters who are pregnant during the pandemic and non-pregnant women of the same age. We describe the percentage of infected women, the symptoms they have had and their immune response. We study the impact on the outcome of the pregnancy. Finally, we investigate whether maternal nutrition, stress and the microbiome (a group of microorganisms that inhabit our bodies) are factors that have an influence on the susceptibility and severity of COVID-19 in pregnancy.
We have also started an international initiative to study COVID-19 in more than 10,000 pregnant women. This study will help to detect small differences and describe the less common forms of COVID-19 during pregnancy. We hope to identify determining factors and predictors of severe COVID-19 cases during pregnancy and create risk algorithms to identify the few serious cases that occur and treat them to avoid complications.
Finally, we have designed a multilingual survey aimed at all pregnant women, with or without COVID-19. We will be complementing the previous studies, but above all, we will be able to use artificial intelligence techniques to know how stress and anxiety, socioeconomic factors, the environment, and pollution affect risks.
Research results (updated August 6, 2020)
The researchers of this line, carried out within the framework of BCNatal together with Hospital Clínic and which also includes cases from the Hospital de Sant Pau, have been able to analyze 874 cases of pregnant women so far.
The results show that 14% of pregnant women have antibodies against the coronavirus, and most have developed the infection asymptomatically or with mild symptoms.
The few pregnant women with more severe symptoms are those who contracted the infection during the third trimester of pregnancy (71 women, 52% asymptomatic, 43.5% with mild symptoms and 4.5% with pneumonia), compared with pregnant women with infection during the first trimester (54 women, 70% asymptomatic and 30% with mild symptoms).
These results have been published in The Lancet on August 6, 2020 (Crovetto et al. Seroprevalence and presentation of SARS-CoV-2 in pregnancy).
Infographic of the study in pregnant women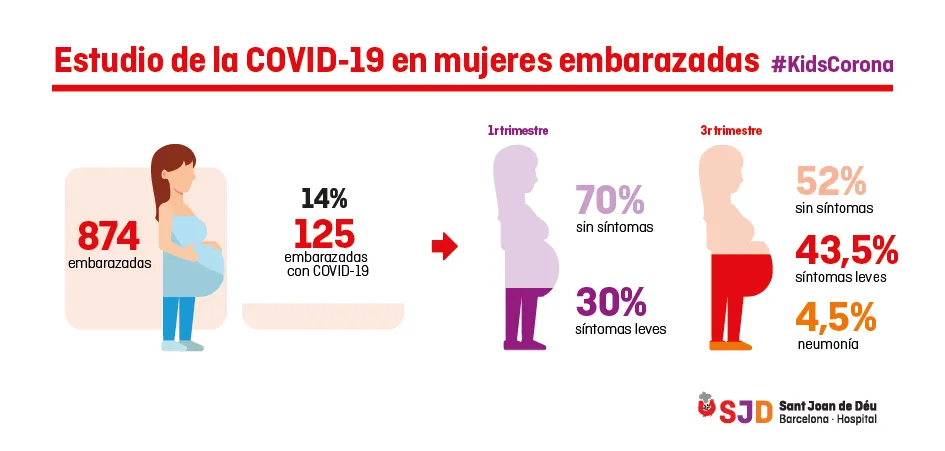 More information, in scientific language, about the specific studies that are answering these questions
We will describe the prevalence, the clinical presentation and the impact on pregnancy outcomes of COVID-19.
We will put together prevalence studies from countries globally. We have already partners in Europe, Americas and Africa, and are working to make it more global.
We have developed a web survey in 8 languages and our collaborators are translating this survey into other languages. We expect to collect responses for 100,000 women.