Ángeles
López Ponce
Nurse specialising in mental health
Head of Nursing in Psychiatry and Psychology Department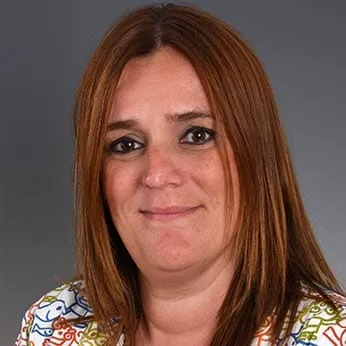 Expert in
Child and adolescent mental health
You will find me at
Languages
Spanish, Catalan and French
From 1994 to 1998 I honed my professional skills as a nurse in various hospitalisation units: endocrinology, nephrology and gastroenterology. From 1998, my professional interests motivated me to focus my professional career on child and adolescent psychiatry and specialise in mental health. I am motivated in my work by promoting activities to improve the qualitative care of patients and their families. I say to myself: "Stop, breathe, think and act".
Training
Nurse specialising in mental health, 2010.
Postgraduate diploma "Nursing Intervention in Mental Health and Psychiatry" at the University of Barcelona, 2004-2005.
Postgraduate diploma "Healthcare Education Methodology" at the University of Barcelona, 2003-2004.
Diploma in Nursing from the SJD Barcelona Children's Hospital School of Nursing, 1994.
International experience
Consolidated research groups: repercussions and benefits of yoga for partially hospitalised patients with eating disorders, 2015.
Non-consolidated research groups: isolation in a padded room in a child and youth psychiatry unit to manage episodes of agitation.
How to request a treatment in SJD Barcelona Children's Hospital
Our hospital is dedicated to comprehensive care for women, children and adolescents.