Esther
Via Virgili
Psychiatrist and postdoctoral researcher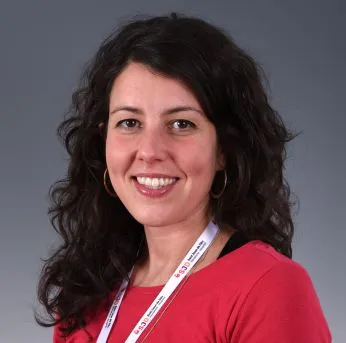 Expert in
Acute Unit. Mental health research using neuroimaging techniques (structural magnetic resonance, functional, meta-analysis)
You will find me at
Languages
English, Spanish, Catalan, French
After training as a psychiatrist (Hospital de Bellvitge, 2006 - 2010), I devoted myself to research using neuroimaging techniques (magnetic resonance imaging) to study neurobiological bases and possible biomarkers in the disorders of autism, anxiety and anorexia nervosa. I obtained different competitive scholarships and I completed training periods abroad, and in 2015 I submitted my doctoral thesis, for which I received an extraordinary doctoral award.
Between 2016 and 2018 I carried out research tasks and clinics in the Hospital Parc Taulí, where I was part of the programme of care for individuals with autism during the transition to adulthood (TAVA), ongoing project, being co-PI of the related research. Since January 2018, I have been working in a mixed clinical-research post in the Mental Health Area at the SJD Barcelona Children's Hospital. 
My area of clinical interest is autism, and, in terms of research, I am interested in the study of changes in neurodevelopmental trajectories in different mental disorders, as well as their potential recovery pathways. The combination of clinical and research work represents a challenge and enormous motivation.
Training
Rio Hortega Scholarship. Instituto de Salud Carlos III (Carlos III Health Institute). Ministry of Science, Innovation and Universities. Hospital Parc Taulí, 2016 - 2018.
PhD in Medicine. Title: "Alterations in social reward and body perception brain circuits in anorexia nervosa: a functional and structural neuroimaging investigation". Universitat de Barcelona, 2010 - 2015.
Australian Scholarship: Endeavour Awards - Australian Government, 2014  - 2015.
Post-MIR (foundation doctor) training scholarship. Hospital Universitari de Bellvitge-IDIBELL, 2010 - 2014.
International experience
Research placement. Melbourne Neuropsychiatry Centre - The Melbourne University. Melbourne, Australia 2014 - 2015.
Pre-doctoral research placement. Melbourne Neuropsychiatry Centre - The Melbourne University. Melbourne, Australia 2012.
Research placement during the MIR period. IOP, King's College London, United Kingdom, 2009.
Medical training placement. UPEC - Université Paris-Est Créteil. Paris, France, 2004
Medical training placement. Universidad Autónoma Nuevo León. Monterrey, Mexico, 2003.
Scientific activity
Post-doctoral researcher group Affective Neurosciences. Hospital Parc Taulí CIBERSAM, 2016 - 2018.
Pre-doctoral researcher Psychiatry and Mental Health group Hospital de Bellvitge - IDIBELL.CIBERSAM, 2010 - 2016.
How to request a treatment in SJD Barcelona Children's Hospital
Our hospital is dedicated to comprehensive care for women, children and adolescents.