Joan
Prat Bartomeu
Paediatric ophthalmologist
Head of Research and Innovation at the Ophthalmology Department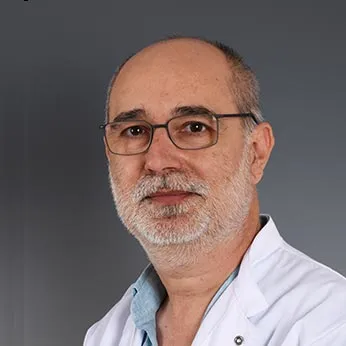 Expert in
Oculoplastic Surgery. Paediatric Ophthalmology. Orbit and lachrymal ducts
You will find me at
Languages
Spanish, Catalan, English, French and Portuguese
I lead the paediatric Oculoplastic Unit. Indeed, our Department was the first in Europe to develop this sub-specialty. I also work in biotechnological innovation, developing exploratory devices. I also collaborate with two African countries, training local ophthalmologists in Paediatric Ophthalmology in Mozambique and Senegal. I am the director of a Master's degree in Paediatric Ophthalmology at the University of Barcelona, the first and only one degree course of this kind in the country. I am the president of the Spanish Eye and Orbital Plastic Surgery Society (SECPOO) and I have been Head of the Paediatric Ophthalmology Department until 2022. "I believe in disseminating the best paediatric ophthalmology practices throughout the world, and if I don't have a solution for something, I will seek it out". 
Training
PhD in Surgery. Autonomous University of Barcelona, 2002.
Specialty in Ophthalmology. Bellvitge University Hospital, 2002.
Specialty in eye orbit. University Hospital Complex of Santiago de Compostela (CHUS), 1991.
Degree in Medicine and Surgery. Autonomous University of Barcelona, 1985.
International experience
Speciality in orbital disorders. Moorfields Eye Hospital, London, 1991.
Scientific activity
Research projects:
Protocol for treatment of congenital tear duct obstruction.
Possibilities of levator resection in congenital ptosis.
Changes in optical pathway diameter in NF1.
Applications of pupillography in children.
Contributions of video-oculography in strabismus surgery.
Early diagnosis of schizophrenia by ocular motility digitisation.
Treatment of Usher syndrome.
Should children wear sunglasses?
How to request a treatment in SJD Barcelona Children's Hospital
Our hospital is dedicated to comprehensive care for women, children and adolescents.