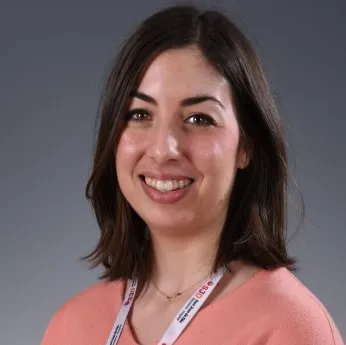 Expert in
Clinical psychology, pediatric mental health.
You will find me at
Languages
English, Spanish, Catalan and Italian
Specialist psychologist in clinical psychology, staff physician in the Mental Health Area. Studying a doctorate in Psychology. I have training in diagnostic techniques (ADI-R, ADOS-2) and specific therapies (systemic family psychotherapy, dialectical-behavioural therapy). I am currently a member of the cross-consultation and liaison team. I am a reference in Clinical Psychology in the Multidisciplinary Unit of Cystic Fibrosis and in the Integral Functional Unit of Microtia.
Training
Doctor of Psychology. FPCEE Blanquerna (Blanquerna Faculty of Psychology and Education and Sports Sciences). Ramon Llull University.
Specialist in Clinical Psychology, (official degree from the Ministry of Health, Consumption and Social Welfare, via PIR). Hospital del Mar (Barcelona), 2016.
Master in Social Cognitive Therapy. Universitat de Barcelona.
Postgraduate degree in Brief Strategic Therapy. Universitat de Girona.
Bachelor's degree in Psychology. Universitat de Barcelona, 2011.
International experience
ANPIR (National Association of Psychologists and Residents) scholarship for training in foreign centres of excellence. Nuovo Centro per lo Studio della Famiglia - Scuola di Psicoterapia Mara Selvini-Palazzoli, Italy, 2016.
Honours Programme in Psychology. York University. Toronto, Canada, 2010.
Scientific activity
Researcher of the consolidated research group of Couple and Family. Universitat Ramon Llull, since 2016.
Family relational diagnosis in mental health. Contributions to prevention, assessment and treatment. R&D Project PSI2017-83146-R, Ministry of Science, Innovation and Universities. Researcher.
Researcher of the Construction and Validation Project of the CERFB-r and CERFB-CoP questionnaire for the evaluation of basic family relationships.
Teaching
Internship tutor for undergraduate students, Universitat de Barcelona, Master (Universitat Ramon Llull and Universitat de Barcelona and residents of clinical psychology (PIR).
Teacher of the Master in Psychiatry and Child and Adolescent Psychology, Department of Psychiatry, Faculty of Medicine, Universitat Autònoma de Barcelona.
How to request a treatment in SJD Barcelona Children's Hospital
Our hospital is dedicated to comprehensive care for women, children and adolescents.