Maria
Cols Roig
Pediatrician specializing in childhood pneumology
Head of the Pediatric Pulmonology Department and the Cystic Fibrosis Unit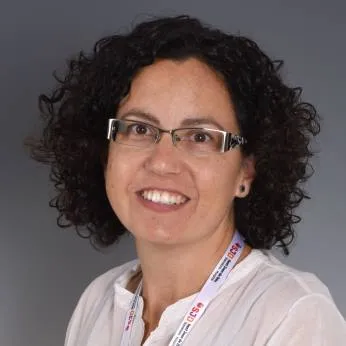 Expert in
Cystic fibrosis and non-CF bronchiectasis. Respiratory management in neuromuscular disease and other neurological disorders. Home mechanical ventilation. Severe asthma.
You will find me at
Languages
English, Spanish, Catalan
Maria Cols has worked in the Pediatric Pulmonology Department of the Sant Joan de Déu Hospital Barcelona since 2008, she has been its head since 2015, and she is the coordinator for cystic fibrosis Unit since 2012. In the Hospital, she is also part of the multidisciplinary teams dealing with home mechanical ventilation, airway care, comprehensive treatment of neuromuscular patients, and the scoliosis committee. It is also an active member of various scientific societies, and collaborates in different working groups, such as the Advisory Committee for Rare Diseases (CAMM), the Pharmacotherapeutic Harmonization Programme and Neonatal Screening Programme of the Department of Health of the Generalitat de Catalunya, as a clinical expert in Cystic Fibrosis.
Training
Accreditation of the subspecialization in Pediatric Pulmonology through the Sociedad Española de Neumología Pediátrica - SENP (Spanish Society of Pediatric Pulmonology) and the Asociación Española de Pediatría - AEP (Spanish Association of Pediatrics), 2015.
Training stage in the Childhood Pulmonology and Cystic Fibrosis Unit. Hospital Vall d'Hebron, 2005.
Specialist in Pediatrics and Specific Areas, SJD Barcelona Children's Hospital - Universitat de Barcelona, 2003.
Doctoral Program: Child Pathophysiology. Universitat de Barcelona, 2000 - 2002.
Degree in Medicine and Surgery from the Universitat Autònoma de Barcelona, 1998. Extraordinary degree award, 1999.
Participation in more than one hundred courses and conferences between 1999 and 2022.
International experience
Training stage in the Pulmonary Division. Boston Children's Hospital - Harvard Medical School, Boston (USA), 2006.
Scientific activity
She has participated in more than 60 national and international publications in scientific books and papers, in more than 90 conference communications, and in more than 10 clinical trials.
PI in VX20-121-102: A Phase 3, Randomized, Double-blind, Controlled Study Evaluating the Efficacy and Safety of VX-121 Combination Therapy in Subjects With Cystic Fibrosis Who Are Heterozygous for F508del and a Minimal Function Mutation (F/MF) Vertex. 2022.
PI in VX19-445-117 A phase 3b open-label study to assess the effect of elexacaftor/tezacaftor/ivacaftor on glucose tolerance in cystic fibrosis subjects with abnormal glucose metabolism. Vertex. 2021.
PI in SJD in the multicenter studies of the Working Group on the Diagnosis of Primary Ciliary Dyskinesia. Coordinator: Antonio Moreno (HUVH). 2017 - present.
PI in SJD in the multicenter studies of the Spanish Group for the Study of Colonization/Bronchopulmonary Infection in Cystic Fibrosis. Coordinator: Dr. Rafael Canton (H. Ramón y Cajal). 2013 - present.
PI of the clinical trial POWERPATCH Autonomous and intelligent skin patch for the diagnosis of Cystic Fibrosis. Within the framework of the "POWER-PATCH_Self-powered skin patch for cystic fibrosis diagnosis" Project (Horizon 2020 ERC-2019-PoC, Prof. N.Sabaté), 2019 - 2021.
Teaching
Tutor of Pediatrics residents at Sant Joan de Déu Hospital, Barcelona, 2011 - 2019.
Member of the Local Teaching Commission: Pediatrics representative and tutor coordinator, 2011 - 2019.
Regular professor in the Non-Invasive Mechanical Ventilation Course at the Continuing Education Institute of the University of Barcelona. Il-3 (University of Barcelona), since 2019.
Teaching lead of the Pediatric Pulmonary Unit, 2008 - 2021.
More than 90 papers presented at conferences, professional associations or universities.
Direction of 4 specialty courses.
How to request a treatment in SJD Barcelona Children's Hospital
Our hospital is dedicated to comprehensive care for women, children and adolescents.