Marta
Morales Ballús
Paediatric ophthalmologist
Head of the Department of Ophthalmology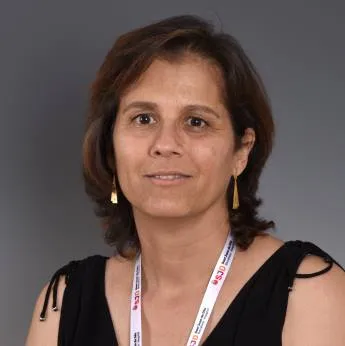 Expert in
Congenital cataracts in infants. Paediatric anterior segment surgery
You will find me at
Languages
Spanish, Catalan, English and French
Since 1996, I have been a specialist in Paediatric Ophthalmology at the SJD Barcelona Children's Hospital, focusing on infant cataracts and paediatric anterior segment surgery. I have authored over 50 presentations given at national and international congresses, and I have participated as a speaker on various courses and at specialised competitions. I did my Resident Medical Internship training in the Department of Ophthalmology at the Hospital Clínic in Barcelona. I was awarded my PhD in 1996. I have been tutoring ophthalmology residents since 2013. 
Training
Training course for Resident Medical Internship tutors run by the Spanish Medical Colleges Organisation Training Foundation, 2015.
Doctoral Thesis: "Influence of the systemic and immune status of the HIV+ patient on the development of CMV retinitis". Mention: Cum laude by unanimous vote, 1996.
Doctoral Courses: Research in Ophthalmology. University of Barcelona, 1993 - 1994.
Specialisation in Ophthalmology, Hospital Clínic, Barcelona, 1996.
Bachelor's Degree in Medicine and Surgery, University of Barcelona, 1991.
Scientific activity
Author of over 50 national and international presentations (EPOS, WCPOS, COPHY, SCO, SAO, SEEOP).
Author of numerous articles published in specialised national and international scientific journals.
From 2005 to present, summary of relevant articles published for the Catalan Society of Ophthalmology journal.
Participation in the organising committee of the European Paediatric Ophthalmological Society meeting in 2014, and of the 1st World Congress of Paediatric Ophthalmology and Strabismus in 2009.
Collaborator in an official presentation by the Spanish Society of Implant-Refractive Eye Surgery of 2016: Paediatric Cataracts.
Six awards from 2004 to present for the best clinical study, published work, project, oral presentation and poster.
Teaching
Tutor of Ophthalmology Residents at SJD Barcelona Children's Hospital since 2013.
How to request a treatment in SJD Barcelona Children's Hospital
Our hospital is dedicated to comprehensive care for women, children and adolescents.