Oliver
Haag Heinz
Paediatric otorhinolaryngologist
Head of the Otorhinolaryngology Service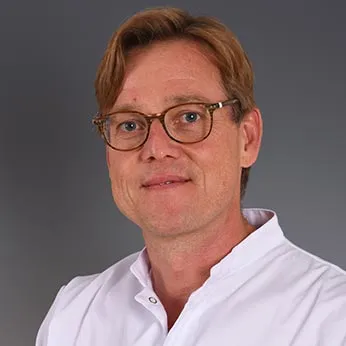 Expert in
Otorhinolaryngology (ENT)
You will find me at
Languages
Spanish, English, French, Italian and German
Training
Doctor of Medicine by the University of Vienna, Austria. Doctor Medicinae (Dr. Med.) degree cum laude from the Humboldt University of Berlin, 1999.
Erasmus scholarship for studies at the Autonomous University of Barcelona (UAB), Hospital del Mar and Hospital de Sant Pau, 1997 - 1998. 
Degree in Medicine. Humboldt University of Berlin, Germany, 1998.
International experience
Placement in the ENT Department of Tübingen University Hospital, Germany. Head of Department: Prof. Zenner. Centre specialised in ear surgery and cochlear implants. November 2012. 
Hospital stay at the Otorhinolaryngology Service of Centre Hospitalier Universitaire Vaudois (CHUV), specialised in Paediatric Airways Surgery, Lausanne, Switzerland. Head of Service: Prof. Dr. Monnier. Centre specialised in paediatric respiratory tract surgery. November - December 2010.
Teaching
Director of SJD Barcelona Children's Hospital's international courses in surgical treatment of sleep apnoeas in children.
Professor of Paediatric Otorhinolaryngology in continuous training programmes for paediatrics specialists (SJD Barcelona Children's Hospital training courses). 
How to request a treatment in SJD Barcelona Children's Hospital
Our hospital is dedicated to comprehensive care for women, children and adolescents.