Peter
Wienberg Ludwig
Paediatric otorhinolaryngologist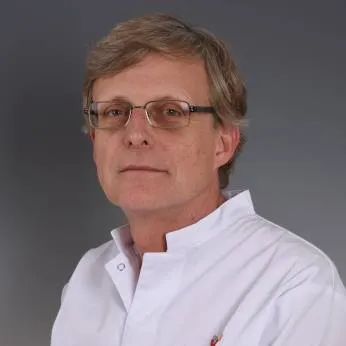 Expert in
Hearing loss. Otologic Surgery and OSA (Obstructive Sleep Apnea)
You will find me at
Languages
Spanish, English and German
Since 1993 I have worked in the Otorhinolaryngology Department at SJD Barcelona Children's Hospital. After a Bachelor's degree in Medicine from the University of Navarra, I completed the M.I.R. (Medical Intern Residency programme) at Hospital Virgen del Camino de Pamplona and since then I have had more than 25 year's experience. I have spoken at more than 50 congresses and lectures and have published more than twenty articles in national and international scientific journals. 
Training
Specialisation in Otorhinolaryngology. Residency at Hospital Virgen del Camino (Pamplona), 1989 - 1993.
Bachelor's degree in Medicine and Surgery. University of Navarra, 1986.
Scientific activity
Contribution to more than 50 publications and national and international congresses.
27 publications in national and international journals, the most recent of which include the following:
Lobular capillary haemangioma of the inferior turbínate: a rare cause of pediatric nasal obstruction. Mariño Sanchez F., Haag O., Lopez-Chacón M., Wienberg P., Cardelús S., Díaz A., Clavería M.A., Lacima J., Rodriguez-Jorge J. Rhinology 2014; 52 (Suppl 25):769.
Susceptibility of Human Lymphoid Tissue Cultured ex vivo to Xenotropic Murine Leukemia Virus-Related Virus (XMRV) Infection. Curriu M., Carrillo J., Massanella M., Garcia E., Cunyat F., Peña R., Wienberg P., et al. (2012) PLoS ONE 7(5): e37415. 
Leishmaniasis cutánea complicada con pericondritis por Pseudomonas. Calzada J., Molina P., Wienberg P., Noguera A., An Pediatr (Barc). 2013. 
Síndrome de apnea-hipoapnea obstructiva del sueño en el niño. Cols M., Wienberg P., Haag O., Sans O. An Pediatr Contin, 8,(3): 113-9. 2010.
Comorbilidades de los tras trastornos respiratorios del sueño en los niños. Sans Capdevila O., Wienberg P., Haag O., Cols M. Acta Otorrinolaringológica Española, 61, (Suppl 1): 26-32. 2010.
Teaching
Instructor and collaborator on practical Otorhinolaryngology courses. SJD  Barcelona  Children's Hospital, 1994 - 2010.
Professor of Otorhinolaryngology for the Master's degree in Surgical Nursing. Hospital Sant Joan de Déu University School of Nursing, since 2004.
How to request a treatment in SJD Barcelona Children's Hospital
Our hospital is dedicated to comprehensive care for women, children and adolescents.