Rubén
Berrueco Moreno
Pediatric hematologist
Head of the Hematology Department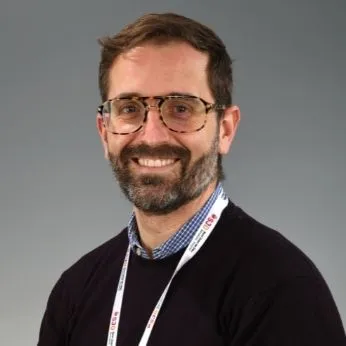 Expert in
Pediatric thrombosis and haemostasis
You will find me at
Languages
English, Spanish, Catalan
I have worked as a pediatric hematologist at the SJD Barcelona Children's Hospital since 2010, and I have been head of the Hematology Department since 2018. I combine healthcare and management activities with research. My main areas of interest include platelet diseases, thrombosis and congenital and acquired coagulopathies in children. I am a member of the Sociedad Española de Hematología y Oncología Pediátricas (spanish society of pediatric hematology and oncology - SEHOP), where I belong to the ITP working group; the Sociedad Española de Trombosis y Hemostasia (spanish society of thrombosis and haemostasis - SETH); and the International Society of Thrombosis and Haemostasis (ISTH), within which I am part of the pediatric/neonatal subcommittee.
Training
Master's Degree in Health Management, Universitat Ramón Llull, 2018 - 2019.
Master in Congenital and Acquired Coagulopathies, Universidad de Alcalá de Henares, 2018 - 2019.
PhD in Medicine. Universitat Autònoma de Barcelona, 2011.
Master's Degree in Pediatric Hematology. Universitat de Barcelona, 2008 - 2010.
Specialist in Pediatrics and its specific areas, Hospital del Mar, 2004 - 2008.
Bachelor's Degree in Medicine and Surgery. Universidad de Zaragoza, 2003.
International experience
Observership at the Great Ormond Street Hospital Haemophilia Unit. London, 2014.
Scientific activity
Principal investigator of the line of haemostasis disorders in children at the Institut de Recerca Sant Joan de Déu, included in the line Leukaemias and non-malignant haemopathies in paediatrics.
Principal investigator on a FIS grant from the Instituto Carlos III (PI17/00356), 2017 - 2021.
Principal investigator in clinical trials related to new treatments for immune thrombopenia, thrombosis and hemophilia in pediatrics (2010 - present).
Member of the paediatric ITP working group of the Sociedad Española de Hematología y Oncología Pediátricas (SEHOP).
Teaching
Director of the course on Pediatric Hematology Update,  SJD Barcelona Children's Hospital, since 2018.
Participates as lecturer in the course on Congenital Coagulopathies, Universidad de Andalucía - Site Antonio Machado (Baeza), since 2017.
How to request a treatment in SJD Barcelona Children's Hospital
Our hospital is dedicated to comprehensive care for women, children and adolescents.