Xavier
Tarrado Castellarnau
Paediatric surgeon
Head of the Surgery Department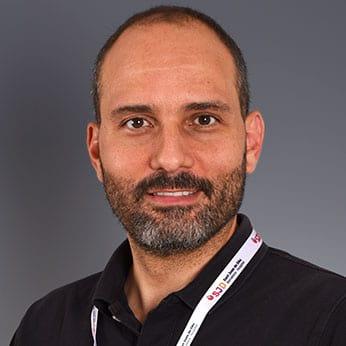 Expert in
Digestive and thoracic Surgery. Minimally Invasive Surgery: thoracoscopic and laparoscopic advanced surgery
You will find me at
Languages
Spanish, Catalan, English and French
I graduated in Medicine from the University of Barcelona (UB) and I received my cum laude doctorate from the same university. I majored in Paediatric Surgery during the MIR and my main area of interest is Minimally Invasive Surgery of thoracic and digestive pathologies. I am an associate professor in the Surgery and Specialties Department of the University of Barcelona. I have made several formative stays of specialization in Pediatric Surgery in international reference centres.
Training
Certification in Paediatric Simulation. Boston Children's Hospital, 2015. 
Doctor of Medicine. University of Barcelona, 2014.
Fellow of the European Board of Paediatric Surgery, 2006.
Specialist in Paediatric Surgery (MIR), Hospital Clinic - Sant Joan de Déu Unit, University of Barcelona, 2003.
Bachelor of Medicine and Surgery. Facultad de Medicina, Hospital Clínic. University of Barcelona (UB), 1996.
International experience
Training placement at the Minimally Invasive Paediatric Surgery Unit, of the Rocky Mountain Paediatric Surgery/Presbyterian-Saint Luke Hospital. Denver. Colorado. USA, 2010.
Training placement at the Service de Chirurgie Visceral et Transplantation de l'Hospital Necker-Enfants Malades. Paris, France, 2004.
Scientific activity
Member of the Research Group in Adulthood Diseases of fetal origin or in the first years of life. SJD Barcelona Children's Hospital.
Research lines: Pre and postnatal research of congenital malformations treatable surgically. Basic, clinical and experimental study.
Teaching
Director of the Master's Degree in Surgical Techniques in Paediatric Surgery since 2014.
Associate Professor of the Department of Surgery and Medical - Surgical Specialties of the Universitat de Barcelona since 2015.
How to request a treatment in SJD Barcelona Children's Hospital
Our hospital is dedicated to comprehensive care for women, children and adolescents.