Rosa María
Carmona Jiménez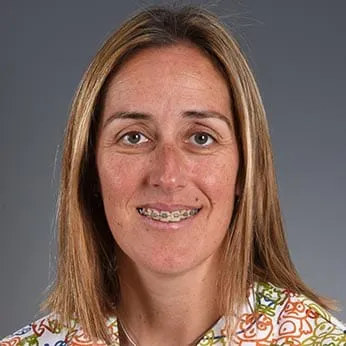 Expert in
Day Hospital coordinator. Urinary and rectal continence and stomata
You will find me at
Referent in continence and stomata. Surgical nurse. My experience is based on the care of children with stomata and the therapeutic education for children and families to carry out the necessary care in this area in an autonomous way. In the same way, I am an expert in the therapeutic approach of primary and secondary childhood incontinence. I love summer, it's the time in which I charge energy. My favorite sports are swimming and running.
Training
Master's Degree in Leadership and Nursing Management (in progress).
Master's Degree in Management of Nursing Services (first course).
Master's Degree in Nursing Care in childhood and adolescence.
Self-training course for graduates in Nursing (CADI).
Postgraduate in Oncology Nursing.
Teaching
Speaker in course of Pediatric Cardiology and Congenital Heart Disease.
Speaker in the IV course of Surgery for Nursing.
Training program for the child and family on intermittent bladder catheterization.
Collaboration as a teacher in the Special Care Practicum.
How to request a treatment in SJD Barcelona Children's Hospital
Our hospital is dedicated to comprehensive care for women, children and adolescents.