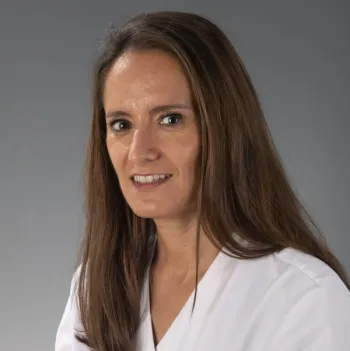 I have been working in the SJD Pediatric Surgery Service since 2016. I have more than 15 years of experience in the profession and extensive training in different fields of the specialty, which I have completed with stays in national and foreign hospitals. I have established as one of my priorities the application and development of less invasive techniques, to allow greater patient comfort and earlier recovery. I have given multiple presentations and courses related to my specialty and I am the author of multiple articles in national and international magazines. I also have a great interest in teaching, research and scientific dissemination and I am a member of various scientific societies. I believe that, as Plato said, "Wherever the art of medicine is loved, humanity is also loved."
I am a specialist in Pediatric Surgery and Urology, minimally invasive surgery: laparoscopy, retroperitoneoscopy, endoscopy, endourology. I have also specialized in hernia, hydrocele, cryptorchidism, hypospadias, varicocele, sacral cyst, vesico-ureteral reflux, pyeloureteral stenosis, megaureter and other complex urological malformations.
Training
Fellow of The European Board of Paediatric Surgery, 2022.
Master in Pediatric Urology, 2018.
Certification in Comprehensive Pediatric Trauma Care, 2013.
Title of Medical Specialist in Pediatric Surgery, 2008.
Title of Doctor of Medicine and Surgery, 2007.
Bachelor of Medicine and Surgery, 2001.
International experience
Azienda Ospedaliera Universitaria (AOU) Federico II of Naples, Italy, 2022.
Thionck Essyl, Senegal, 2018.
Hospital Lapeyronie, Montpellier, France, 2008.
Children's Hospital of Pittsburgh, PA, USA, 2007.
Children's Hospital of Boston, MA, USA, 2007.
Scientific activity
More than 300 scientific communications in national and international congresses.
More than 100 publications in scientific journals (see references to Scientific Publications at this link)
More than 90 presentations.
More than 20 awards from scientific societies.
More than 20 research projects.
Publication of nine book chapters and two complete books.
Teaching
Tutor for Pediatric Surgery Residents at SJD Barcelona Children's Hospital.
Professor of the Master's Degree in Pediatric Urology at the University of Barcelona. Certified Pediatric Urology Training Program within the EUMS.
Professor of the Master: Minimally Invasive Surgery in Pediatrics at the CEU Cardenal Herrera University.
Clinical Tutor of the Faculty of Medicine of the University of Seville.
Honorary Professor at the University of Málaga.
Expert/Collaborator of IAVANTE (Advanced Multifunctional Complex for Simulation and Technological Innovation).
How to request a treatment in SJD Barcelona Children's Hospital
Our hospital is dedicated to comprehensive care for women, children and adolescents.