Bonaventura
Ruiz Montasell
Clinical biochemist
Head of Laboratory Diagnosis Department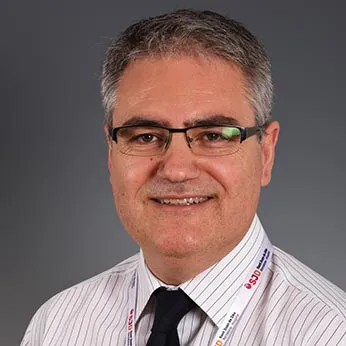 Expert in
Team management, leadership of healthcare organizations. Clinical biochemistry
You will find me at
Languages
Spanish, Catalan, English and French
Bachelor's Degree in Biology and PhD in Biochemistry. Specialist in Clinical Biochemistry. After a period in the academic field (University of Barcelona) dedicated to basic research and university teaching, I switched to clinical analysis by joining one of the most important reference laboratories in the sector. Over the following ten years, my roles and responsibilities evolved from the technical arena to management and leadership tasks. I joined the SJD Barcelona Children's Hospital in 2006 as Director of the Laboratory Management Area. My leadership experience in highly specialised environments makes my work highly fulfilling. My main aim is to ensure quality of service, the efficient use of resources and the professional development of all team members. 
Training
Postgraduate Diploma in Leadership in Healthcare Organisations. IL3 Institute for Lifelong Learning of the University of Barcelona (UB), 2006.
Biologist specialising in Clinical Biochemistry. Recognition of the Ministry of Education, 2005.
Postgraduate Diploma in Scientific Communication. IDEC-Pompeu Fabra University (UPF), 1996.
PhD in Biochemistry. University of Barcelona, 1994.
Training placement at Bristol University (United Kingdom). School of Medical Sciences, 1992.
Bachelor's degree in Biology. University of Barcelona, 1989.  
How to request a treatment in SJD Barcelona Children's Hospital
Our hospital is dedicated to comprehensive care for women, children and adolescents.