Marisa
Cabrera González
Orthopaedic surgeon and pediatric traumatologist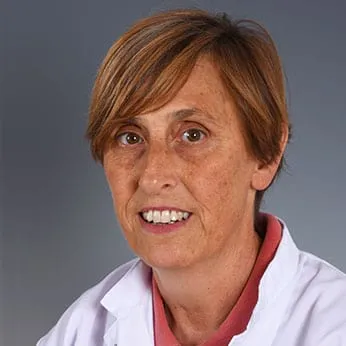 Expert in
General Pediatric and Adolescent Traumatology and Orthopedic Surgery (except spinal column), specialising in congenital limb malformations and prenatal diagnosis. Sports Medicine for the musculoskeletal system
You will find me at
Education
Degree in Medicine and Surgery from the Universitat de Barcelona.
Specialisation in Orthopedic Surgery and Traumatology from the Universitat de Barcelona.
University Masters in Clinical Science Investigation. School of Medicine. Universitat de Barcelona, 2009.
Masters in Microsurgical Techniques. Universitat Autònoma de Barcelona, 2003.
Masters in Assessing Tissue Damage. Universitat de Barcelona. Pediatric Traumatology and Orthopedics (congenital limb malformations), 1995. 
Masters in Pediatric Traumatology and Orthopedic Surgery. Universitat de Barcelona, 1994.
Diploma in Surgical and Anatomical Techniques for the Upper and Lower Limbs. Universitat de Barcelona, 1993.
Supervisor of Radioactive Facilities for Radiodiagnostics Universitat de Barcelona. Nuclear Safety Council. Generalitat de Catalunya, 1992.
Degree in Sport Medicine from the Centro Provinciale di Medicina Dello Sport. Trieste, 1986 - 1987.
Certification from the Spanish Society of Traumatology and Orthopedic Surgery for being part of the National Teaching Commission and Continued Professional Development in Surgery for MIR Specialists. 
Teaching
Lecturer on Doctorate Courses. Universitat de Barcelona. Hospital Clínic i Provincial de Barcelona. School of Medicine from 1995 to present.
Lecturer on the International Masters in Hand Surgery. Belonging to the Universitat de Barcelona and FESSH (Federation of European Societies for the Surgery of the Hand), to access the European Diploma of Hand Surgery.
Lecturer on postgraduate programmes since 2003 at the Universitat de Barcelona. 
How to request a treatment in SJD Barcelona Children's Hospital
Our hospital is dedicated to comprehensive care for women, children and adolescents.