Martín
Iriondo Sanz
Neonatologist
Head of the Neonatology Department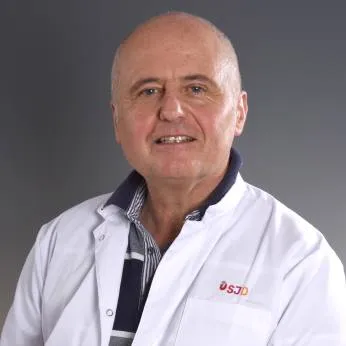 Expert in
Neonatal Resuscitation
You will find me at
Languages
Spanish, Catalan and English
After finishing the resident medical internship in Paediatrics in 1988 at SJD Barcelona Children's Hospital, I joined the Neonatology Department as a specialist (1990) and read my doctoral thesis. Since 1991, I am an associate lecturer in Paediatrics at the University of Barcelona. In 2001, I took up the post of the Secretary of the Resuscitation Group in the SENeo, and since 2007 I am one of the national coordinators. From 2004 to 2010, I was head of studies. In 2007 I took up a position on the Neonatology Management Committee of our Hospital, and since 2013 I am the head of the Department. In my experience, seeing how a team grows and establishes itself is one of my greatest personal satisfactions. On a personal level, the Baix Ebre region, unknown to many people, is my own little paradise.
Training
Accreditation as research personnel: Government of Catalonia. Department of the Environment and Housing, September 2005.
Accreditation in Neonatology from the Spanish Nephrology Society (SEN) / Spanish Paediatric Association (AEP), September 1997.
PhD in Medicine. Doctoral thesis "Leukocyte Elastase in neonates: behaviour in different pathological situations and use in the early diagnosis of septicaemia", 1990.
Specialty in Paediatrics, Resident Medical Intern, Hospital Sant Joan de Déu Barcelona, 1988.
Degree in Medicine and Surgery, 1983.
International experience
Placement at  Boston Children's Hospital (Simulator Program). Simulator Program Fellowship in Paediatric Simulation, November 2014.
Scientific activity
Researcher in the area of adulthood diseases that originated in the womb or the first years of life, Paediatric Research Institute - Sant Joan de Déu
Multicentre projects:
PRESOX clinical trial. Title: Premature infants Resuscitated with Oxygen or air. Sponsors: Neil N Finer (USA), Ola Saugstad (Norway) Máximo Vento Torres (Spain). Study Manager: Wade Rich (USA). Study conducted at 29 centres in Spain, Europe and the USA: Hospital la Fe (Valencia). Coordinator at the SJD Barcelona Children's Hospital: M. Iriondo. Start date: March 2014.
REOX clinical trial (EudraCT No. 2008-005047-42. Title: Resuscitation of extremely low-weight neonates by means of a comprehensive monitoring system: study of the influence of the fraction of inspired oxygen (REOX). Sponsor: Máximo Vento Torres. Study conducted at 2 sites: Hospital la Fe (Valencia). SJD Barcelona Children's Hospital. Collaborators: Marta Aguar, Ana Gimeno, María Brugada, Montse Izquierdo, Marta Thió and Martín Iriondo (collaborator from 12-06- 2009 to 15-06-2011. PI at site 2 from 16-06-2011 to 18-10-2013).
Funded research projects:
"Prediction of survival without neonatal morbidity and without moderate-severe neurodevelopmental disability in preterm infants of the Spanish network SEN1500". Reference: Dossier: PI16 / 00748. PI: Martín Iriondo Sanz. Researchers: Josep Figueras Aloy, Marta Thió Lluch, Ruth del Rio, Mattia Bossio (part time). 2017 - 2019.
"Early biomarkers of the Safety and Efficacy of nutritional support in very preterm infants" Reference: Dossier PI13/01562 PI:Isabel Iglesias Platas. Investigators: Marta Ramon Krauel, Silvia Meavilla Olivas and Martín Iriondo Sanz (part time). 2014-2016.
"Identification of risk factors for neurocognitive and linguistic development in very low-weight preterm infants: focused care and phonetic perception in the first year of life". Reference: PSI2008-01253/PSIC. PI: Laura Bosch. Investigators: Melania Figueras and Marta Ramon-Casas (full time), Martí Iriondo and Thais Agut (part time). 2008 - 2011.
Teaching
Associate Lecturer in Paediatrics, University of Barcelona. Faculty of Paediatrics, start date: December 1991.
How to request a treatment in SJD Barcelona Children's Hospital
Our hospital is dedicated to comprehensive care for women, children and adolescents.